BOUTIQUE HOTEL IN UBUD (BALI)
Small Resort in the Rice Fields
Picture yourself on a hill called 'Gunung Sari', near Ubud, the cultural and culinary heart of Bali. You are looking out over the quiet rice fields. A luxury holiday in a design hotel. Listening to the sounds of the tropical night and the distant rhythms of the gamelan, the hectic city life and the busy beaches are far away. You have entered one of the newest Ubud hotels. While the sun sets in a sea of whispering green, the tropical garden is lighted discretely. The evening air is filled with delicate floral perfumes. Is that what you had in mind for your next holiday?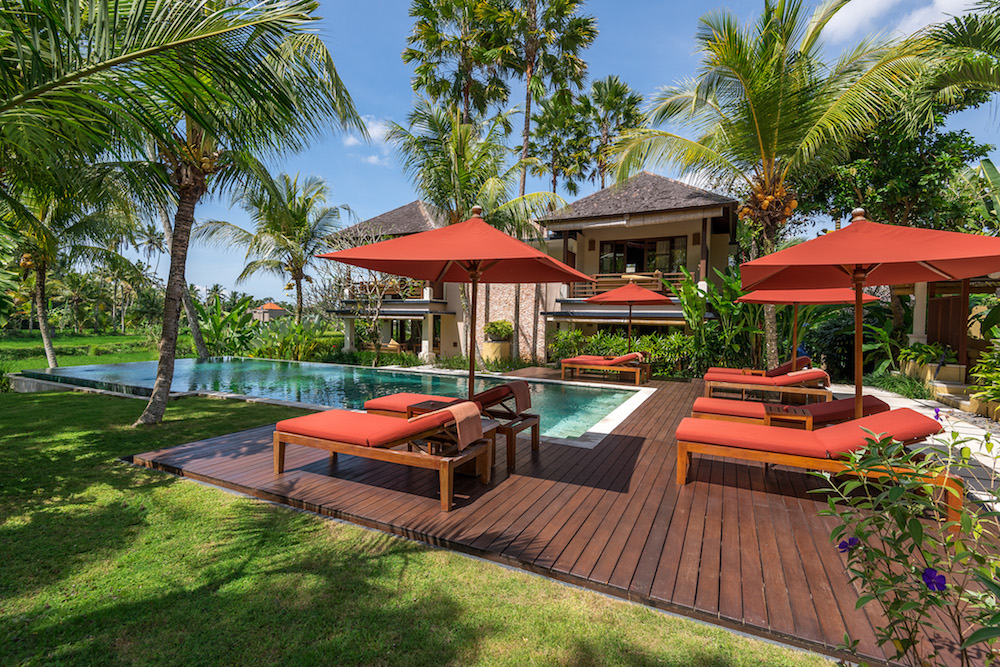 This intimate boutique hotel has been designed by Joost van Grieken, the famous Dutch architect and long time Bali resident. Joost is well known for his delicate combinations of western style elements and Balinese architecture. We have chosen to use local materials whenever possible. White wonosari stone from East Java, bankyrai wooden floors, wooden shingles and alang-alang grass for the roofs, red Lombok stone for decorative walls.
AVAILABLE ROOMS
Accommodations
COZY ATMOSPHERE
Infinity Pool
It will feel good to return to Villa Sabandari after a sightseeing trip or a shopping spree in Ubud.
You will love the personal service and the cozy atmosphere. How about a refreshing dive in the infinity pool before dinner? Relax in a Bali accommodation that feels like your private Bali villa.
FOOD AND DRINKS
Breakfast & Snacks
We serve a copious, daily changing breakfast. Breakfast will be served at the time and place of your choice. Snacks can be ordered from 12:00 to 16:00. A complimentary Afternoon Tea is served between 16:00 and 17:00. The Drinks menu offers a wide range of cocktails, a white and red house wine that can be ordered by the glass, fresh fruit juices and soft drinks.
Perfectly Located for Tours & Escapades
Villa Sabandari offers a breathtaking view of the rice fields that surround Ubud. Yet you can walk to the centre of town in no time.
Bali is known as the 'Island of the Gods'. No wonder the Masceti temple is one of the hotel's neighbors and that from the open living room, you can see a small forest temple, at the other side of the rice field.
Besides all this, we offer many possibilities for tours in the neighborhood.
CHECK TOUR OFFERS
"For the past 15 years we have travelled the world and have stayed in many wonderful accommodations. Villa Sabandari is now at the top.of our list of the very best. We stayed nine nicely quiet nights. "
TMDSGY, CALIFORNIA
"Very, very nice boutique hotel in Ubud. Stayed here for 5 nights. Had a wonderful time. Everything is as you would hope for: room, bed, bathroom grounds, pool. We thoroughly enjoyed our stay in this little oasis.."
RVDC56, BELGIUM