Toen ik vanmorgen mijn 'Google Analytics' opende om te checken hoeveel bezoekers we hadden op de website van onze Ubud B&B viel me het hoge aantal uit Australië op.
Nou ja, hoe komt zoiets, dacht ik en stond er niet verder bij stil.
Tot ik mijn mailbox opende en de nieuwsbrief van 'TripAdvisor' las.
Villa Sabandari is prominent aanwezig in de nieuwsbrief, en op de website gestegen naar plaats #3 op 48 Ubud B&B 's.
Waarschijnlijk zijn we met onze 6 kamers te klein om als hotel te worden gekwalificeerd.
Eigenlijk kan me dat niet veel schelen en is het zelfs beter zo.
Liever nummer 3 van 48 Ubud B&B 's dan nummer 27 van 93 hotels.
De Australiërs zijn het eerste wakker. Daarom verwacht ik vandaag nog heel wat bezoekers naarmate de dag vordert.
Hierna een kopie van de nieuwsbrief en de volledige tekst van de Review.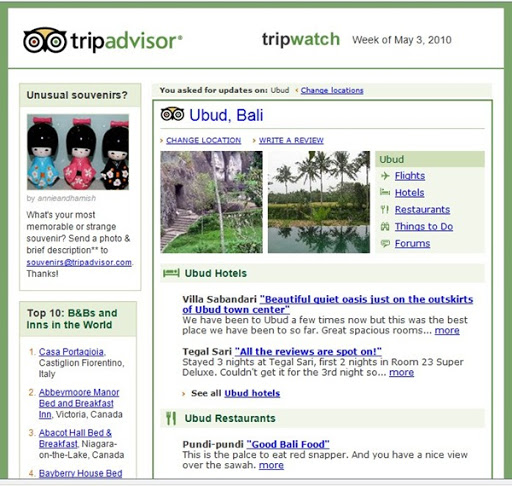 "Beautiful quiet oasis just on the outskirts of Ubud town center"
5 of 5 stars Reviewed April 27, 2010
We have been to Ubud a few times now but this was the best place we have been to so far. Great spacious rooms, especially the open-air bathroom! Very nice materials and decorating. The view on the rice paddies is wonderful. You can see everything from your terrace or balcony. Sabandari is only a few minutes walk from the central market in Ubud. But by motorbike you can explore the entire Ubud area. We have especially enjoyed your great service if we needed anything. Maybe because we were the first visitors ever to sleep at Sabandari. Thank you for your hospitality and our great stay at your beautiful boutique hotel. Dennis, Josine, Hans en May, The Netherlands. See you next year.