I Wayan Juniarta, The Jakarta Post, Ubud Bali | Archipelago | Sat, June 21 2014, 11:17 AM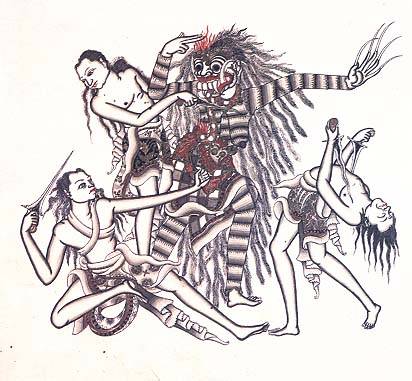 The first-ever comprehensive book on I Gusti Nyoman Lempad, the late Balinese painter, sculptor and architect, was launched Thursday night at the Agung Rai Museum of Arts (ARMA) in Ubud, with poet and journalist Goenawan Mohamad drawing a parallel between Lempad and Spanish legend Pablo Picasso.
"Lempad is one of two painters in the world who were able to present the erotic subject-matter in a profound and meaningful way. The first was Lempad, the second was Picasso," Goenawan said.
Goenawan recalled that he first met Lempad in 1968, during which the great maestro showed him a series of his paintings on Jaya Prana Layon Sari, a local tragic love folklore story.
The paintings touched Goenawan not only because they spoke about the struggle between the common people against an oppressive king, but also because they underlined Lempad's mastery in capturing the beauty of human body.
"The paintings mesmerized me of the respect and appreciation of the human form. In his works, erotic subject matter transcended mere eroticism and the human body rose above its physical properties," he said.
Lempad was born in 1862 and died in 1978 was an undagi, a Balinese term for a respected multi-talented artist, well-known for his black and white paintings, masterful lines and his enduring love for folklore.
He was also an accomplished architect of ritual paraphernalia, including cremation towers and wooden sarcophagi. His sculptures and carvings decorate important temples in Gianyar and Ubud and he also played an important role in the design and construction of Ubud's Puri Lukisan Museum and Pura Taman Saraswati , a temple famous for its lotus pond.
Lempad, a Timeless Balinese Master is a weighty 312-page hardcover, which is richly illustrated with his work, including those displayed in museums abroad and in private collections.
It was co-authored by Jean Couteau — a French scholar who has lived in Bali for decades and played a pivotal role in deciphering the island's contemporary arts to the Western audience —, Ana Gaspar and Antonio Casanova.
Gaspar and Casanova are wealthy art collectors that specialize in pre-modern arts. The couple first encountered Lempad's works seven years ago when they visited the Lempad Pavillion at the Neka Art Museum.
"The works instantly gave me goosebumps," Casanova recalled.
"I was instantly aware that he must be a very powerful artist, one that was still connected to nature and lived in accordance with the old ways," he said adding that he had tried to find information and books on Lempad but was unsuccessful.
"It was then that I decided to write a book on Lempad."
(c) The Jakarta Post