Secret Bali:: Behind The Tourist Facade by Jill Gocher with Jean Couteau
Published by Now! Bali Publication 120 pages (Courtesy of UWRF)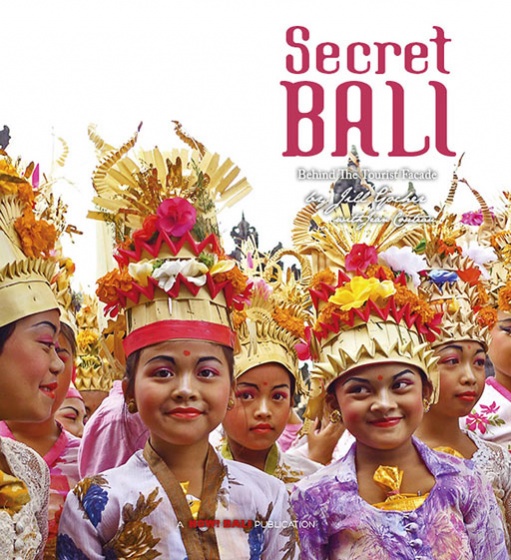 People who are in Bali, either seasonal tourists or contented expats, may eventually realize that the island has partly turned superficial — with the growing presence of lavish restaurants and shops, luxurious Bali hotels and villas and glittering nightspots gradually transforming the once pristine island.
The traditional life, however, continues as it has for centuries, becoming more secret, hidden behind doors, behind walls, behind the buzz of the ever-growing tourist industry.
As Australian photographer Jill Gocher simply puts it, "Before, when tourists came here, one thing they would like to do was to see, learn and enjoy the culture, but now it turns into like 'which party will we go to tonight?', 'which restaurant should we dine in?', or 'where's our villa?'"
In her new book Secret Bali, Gocher records Balinese culture with her captivating words and images, to bring it to the attention of people and make them see what the real Bali is about.
Behind all those modern facades, Bali remains a place where "spirits permeate every single corner of the island. They are kept peaceful and placated with daily offerings and prayers that create harmony and special energy for which Bali is renowned".
In modern buildings, like hotels, "all those statues and temple buildings are not just architectural decoration". Beautifully made offerings in open doorways are part of the daily spiritual routine to appease the gods in the visible world and the spirits of the invisible underworld (sekala and niskala).
Gocher takes us on a journey in one "mystic evening", the evening before Galungan — one of the biggest religious celebrations in Bali, as well as visiting the ancient temple complex of Gunung Kawi, the holy spring of Yeh Massam, Ubud's sacred monkey forest and other places.
Readers will also find it interesting to get a glimpse of the island's rituals — a-once-in-200-years celebration at Gunung Raung Temple, a Balinese royal wedding, the house-blessing ceremony melaspas, tajen (cockfighting) and ngaben (cremation).
"If one can see only one part of Balinese culture while in Bali, the most spectacular and important of all Balinese rituals is ngaben — the culmination of a person's life and the sendoff to the next life or afterlife."
Having moved to Ubud — the island's artistic and cultural heartland, nine years ago, Gocher has witnessed the changes brought about by the dynamic tourism industry.
Early in the morning, she would head to the traditional market and capture the images of locals' daily activities, as described in the chapter on Ubud Market.
"Even a visit to Ubud Market reveals much that is Balinese. Try a visit in the early hours before 9 or 10 a.m. when the tourists start to arrive and the ambience changes to a big bazaar," writes Gocher, who has delighted in photographing the market since she was a student.
Historian and art critic Jean Couteau writes three stories for the book, one of which is titled Food for the Gods, where he complains that Balinese culture, down to its food — not to mention its arts and music — is more and more 'fabricated' to suit tourists' expectations.
Published by NOW! Bali Publications, the work of Gocher and Couteau has been hailed as a "marvelous combination of talents and creativity
[that] came together to bring the 'seen' and 'unseen' elements, the sekala and niskala of Balinese life together in the pages".
(c) Desy Nurhayati, The Jakarta Post, Ubud, Bali | Feature | Mon, December 15 2014, 10:48 AM